India Warehousing: A Rising Industry- CREDAI-ANAROCK Report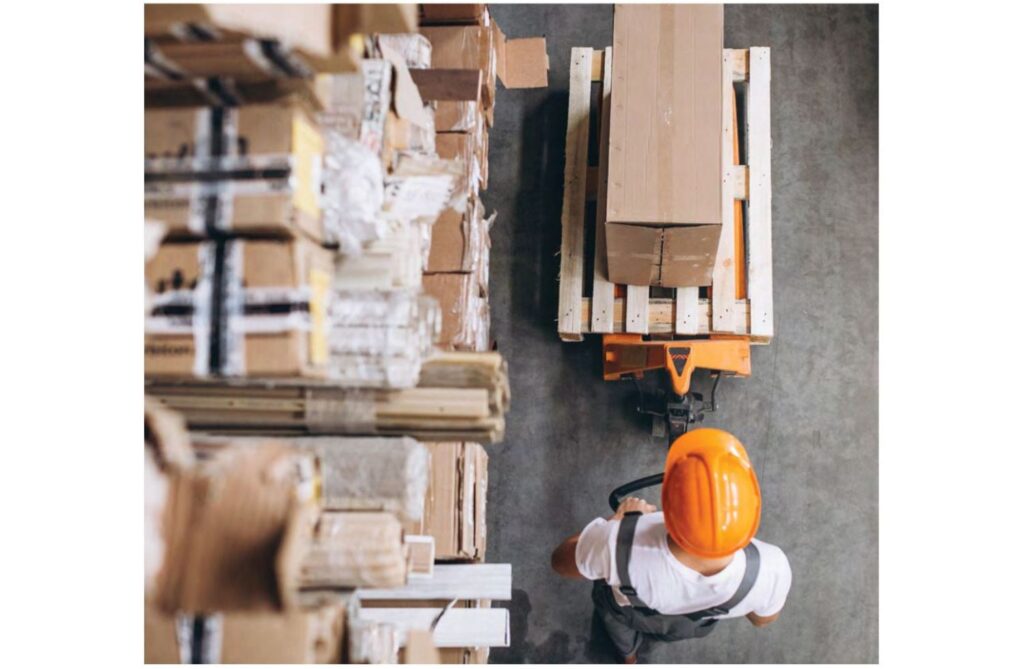 Warehousing View point
Foreign and domestic investors can anticipate an entry yield of 9–10%.
In the future, a large number of foreign developer funds are anticipated to enter the Indian Warehousing industry.
Previous rounds of funding for warehousing growth were driven by money; the upcoming wave will be driven by JV platform arrangements.
Large scope for air cargo, cold-chain structures, and in-city multi-level warehouse expansion; ESG to become an integral aspect as ESG standards-compliant developments witness smoother planning process, tenant retention, and investor trust; and 2024 announcement of a warehouse sector-specific REIT/ InVIT.
According to the CREDAI-ANAROCK report , India will need to produce enough supply to meet an absorption of around 223 million square feet of Grade A warehousing demand over the next three years. The report was presented at NATCON 2022, which took place from November 11–13, 2022, in Abu Dhabi. To support this level of development, an equity investment of about $3.8 billion will be needed.
As per Shobhit Agarwal, MD and CEO of ANAROCK Capital "According to the data, the sector presently possesses $900 million in "dry powder" funding from previous promises. This suggests that the warehousing industry will soon have a latent investment opportunity of an additional $2.8 billion. A large portion of this funding will need to go toward Grade A warehouse facilities, which are in higher demand due to their positive direct and indirect effects on overall operating efficiencies."
According to the report, Grade A warehousing was assimilated more, rising from 34 million square feet in 2018 to 48.5 million square feet in 2021 at a CAGR of 12.6%. At a CAGR of 10.6%, supply in this category increased during the same time period from 37.8 million square feet to 51 million square feet.
About 160+ million square feet of Grade A warehouse space were leased in the top 7 Indian cities, with MMR and Pune in the West and Bangalore, Chennai, and Hyderabad in the South accounting for the majority (32% of the total leasing volumes).
Potential for warehousing in India.
Realterm, established its operations in India in 2007 in partnership with Everstone, one of India's major developers of contemporary industrial and logistical space . Many other worldwide developer organisations established their operations in India as a result of their early success and the development of e-commerce. These include Ascendas, Blackstone, ESR, LOGOS, Mapletree, and others that are well-known. A platform between institutional investors and Indian real estate companies like Warburg Pincus – Embassy, etc. has been established.
Users of these high-quality warehouses reported increased supply chain efficiency, which led to more precise order fulfilment, a decrease in "Lost Sales" from stock-outs, and a reduction in operational expenses thanks to automation. Due to the virtual blurring of state lines with the implementation of GST, this asset class' expansion was further fueled.
Policies from the Central and State Government place a greater emphasis on compliance, whether it be with fire NOCs or land zoning.
Environmental standards and worker safety also contributed to the rise in demand for high-quality warehouses. Because of this, the warehouse sector has grown to be a powerful asset class and is still a startup industry within the real estate sector as it looks to attract investors.
Best Micro-Markets for Leasing
According to Harsh Vardhan Patodia, President of CREDAI and CMD of the Unimark Group, "One of the most popular asset classes for investors and developers to balance their real estate portfolios is warehousing. The warehousing market is very profitable and range-bound. The risk is lower, the production is faster, and the IRR is bigger. In contrast to other industries that are predominantly developer-led, this industry is consumption-led."
Key PE Investment Deals and JV Platforms Warehousing
Rentals for Warehousing
MMR has the highest average rent of the top 7 cities at INR 27/sq ft, while Hyderabad has the lowest at INR 20/sq ft. The Western markets of Bhiwandi, Chakan, and Panvel/Taloja dominate Grade A warehousing space leasing share with 41per cent of the top 10 micromarkets.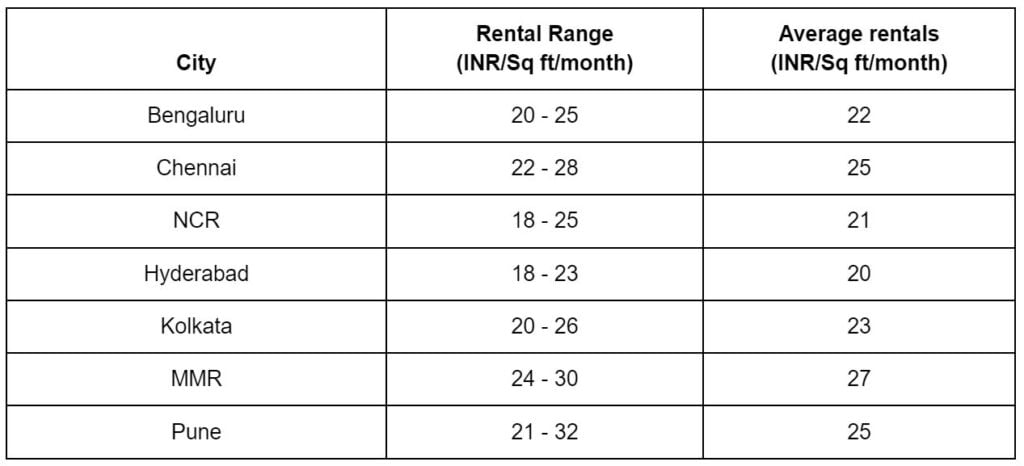 Sectors Fueling Demand Warehousing
A 78 per cent share of the warehouse leasing space across 7 cities is accounted for by the top 3 industry sectors: 3PL, e-commerce, manufacturing, and automotive. Given the rise in businesses outsourcing their supply chain and logistics to 3PL players, 3PL has the greatest leasing space share at 42 per cent.