Transforming From Airport to Preferred Destination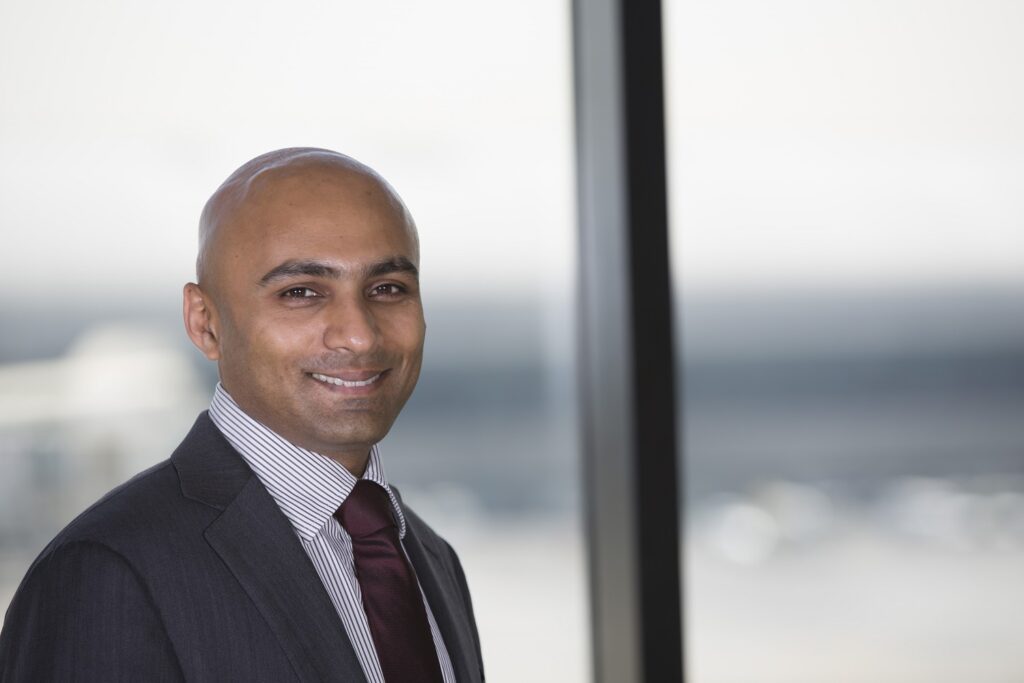 With its conducive geographic location, aided with robust infrastructure, and adequate airline capacities to key markets globally, BLR Airport has transformed itself into a preferred choice for perishable shipments in India. Satyaki Raghunath, Chief Strategy & Development Officer, Bangalore International Airport (BIAL)
Q1. Post Covid, how is BIAL performing in terms of cargo tonnage? Is there a drop in the tonnage percentage as compared to the pandemic times?
The Kempegowda International Airport, Bengaluru (BLR Airport) recorded its highest-ever cargo tonnage in Financial Year (FY) 2022, despite challenging circumstances due to multiple Covid waves. The Airport processed 411,513 Metric Tonnes (MT) of cargo, recording a growth of 26% as against 326,643MT in FY 2021. International cargo recorded 31% growth, with 271,988MT processed, as compared to 207,518 MT in FY 2021. Domestic cargo grew at 17%, with 139,525MT versus 119,125MT in FY 2021. The Airport achieved a significant record by gaining 13% of India's air cargo market share and 45% of South India's air cargo market share.
Q2. Since BIAL undertakes the perishable shipments too. How is the demand post covid?
Perishable cargo has been one of the major growth drivers for BLR Airport. It is the No.1 airport in the country for handling perishables in FY 22— estimated to account for 31% of India's total perishable shipments. BLR Airport has emerged as the leading Airport in India for exports of poultry products and flowers during the same period. The perishables, which also included vegetables and fruits, were carried by 24 airlines to 46 international destinations. Doha was the top destination last year, followed by Singapore, London and Muscat.
Q3. Do you suggest that Indian airports must have a robust cold supply chain to strengthen the perishable commodity markets globally?
Time always plays a critical part in perishable logistics. BLR Airport has a dedicated cold zone- AISATS Coolport – with the capacity to handle 40,000 MT per annum and temperature zones ranging from -25 to +25 degrees Centigrade under the same roof. Additionally, Menzies Aviation Bobba Bangalore too has a cold zone, with a capacity of 20,000 MT per annum, and also the capability to handle 20 Unit Load Device (ULD) Pallets from 15 to 25 degrees Centigrade and 2 ULD for 2 to 8 degrees Centigrade.
With its conducive geographic location, aided with robust infrastructure, and adequate airline capacities to key markets globally, BLR Airport has transformed itself into the preferred choice for perishable shipments in India.
Q4. Role of digitalisation in making air cargo seamless and efficient? What are the services offered by BIAL in this sector?
To streamline, cargo operations, we have introduced the Airport Cargo Community System: This digital platform has made the shipping process simpler, eliminating paperwork, enabling faster processing of transactions, reducing duplication of information and streamlining processes, thereby making information available to all stakeholders, prior to cargo reaching the airport. Other facilities include:
Express Cargo Terminal (ECT): India's first dedicated ECT at an Indian airport with an express cargo processing capacity of ~1,50,000 MT per annum, exclusively for export and import of international couriers was opened in March 2021. This has enabled ease of doing business and reduced transaction times and cost for the shipper.
Public Bonded Warehouse: To help in the re-export of goods, long-term storage of bonded cargo, assisting in partial clearances, and to allow value-added services such as labelling, packing, and repacking services BLR Airport has a Public Bonded Warehouse.
Airport Truck Management Facility (ATMF)
BLR Airport has a dedicated airport truck management facility within the Airport campus. It allows the cargo supply chain partners to arrive at the cargo terminals at the appropriate time after they are processed through the ATMF, thereby reducing landside congestion and improving throughput / processing times at the terminals.
TAG BOX, an IoT-based live monitoring solution: We have an integrated IoT based solution –TAG-BOX – to enable live monitoring of temperature-sensitive products. It provides agents with real time temperature data of shipments at every step of the journey. Envirotainer: Partnered with Envirotainer for an advanced temperature-controlled cargo solution. This enables pharmaceutical companies and their logistics partners to move temperature-sensitive cargo across the world, while maintaining the integrity and quality of products throughout journey