For the Second Time, BLR Airport Is Ranked First for Perishable Shipments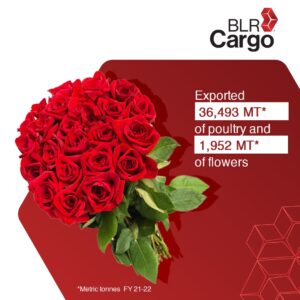 Kempegowda International Airport (BLR Airport) in Bengaluru continues to remain the No. 1 airport in India for handling perishable shipments. In FY 2021-22, BLR Airport handled 52,366 metric tonnes (MT) of perishable shipments, up from 48,130 MT the previous year. BLR Airport currently handles 41% of South India's air-cargo perishable tonnage, making it India's leading airport for perishables.
Fruits and vegetables, as well as poultry and flower exports, have been major drivers of this growth. In FY '22, BLR Airport exported 36,493 MT of poultry and 1,952 MT of flowers. Doha was the most popular destination, followed by Singapore, London, and Male. In fiscal year 22 (FY22), 33 cargo freighter airlines transported perishable shipments from BLR Airport to 85 international destinations.
"BLR Airport has the highest number of dedicated cold zones in India, allowing for the processing of perishable goods for export." The infrastructure we provide ensures cold-chain integrity and the seamless movement of perishables with no change in the optimum storage temperature. "Our recent infrastructure and technology partnerships with multiple cargo partners will only strengthen and improve the airport's cargo capacity," said Satyaki Raghunath, Chief Strategy and Development Officer at Bangalore International Airport Ltd. (BIAL).
BLR Airport has the highest number of dedicated cold zones in India, allowing for the processing of perishable goods for export
Various statutory bodies from both the Government of India (GoI) and the Government of Karnataka (GoK), including Indian Customs, the Agricultural and Processed Food Products Export Development Authority (APEDA), the Plant Quarantine Office Bangalore, and the Karnataka State Agricultural Produce Processing and Export Corporation Limited (KAPPEC), have assisted BLR Airport in maintaining quality standards across operations at its cargo facility.
APEDA has been instrumental in assisting Karnataka's perishable exporters and understanding their needs in order to increase exports.
BLR Airport has cutting-edge facilities to meet the ever-increasing demand for and handle temperature-sensitive cargo, establishing itself as India's hub for perishables. The cargo terminals have an annual cold-chain handling capacity of 60,000 MT. Because time is critical in perishable logistics, the airport has invested in several technology-driven interventions to ensure that products reach their destination while maintaining freshness, quality, and appeal to consumers.
An Airport Cargo Community System (ACS) has been implemented at the common-user cargo terminals of BLR Airport. It is a seamless way for the cargo community to track their shipments through the airport. This eliminates the need for paperwork across both terminals.
Another distinctive feature of the cargo terminal at BLR Airport is the Plant Quarantine Inspection and Certification Facility, which enables seamless and faster transit of perishables. The processes at BLR Airport are geared in such a way that all farm-fresh commodities can reach their destination within 24 hours of harvest.
With its conducive geographic location, aided by robust infrastructure, operated by leading cargo handling providers, and adequate airline capacity to key markets globally, BLR Airport has transformed itself into the preferred choice for perishable shipments in India.
The current cargo capacity of BLR Airport is 715,000 MT annually, which is the largest cargo processing capacity in South India. The airport aims to expand its cargo infrastructure to provide a capacity of approximately 1.5 million MT by the mid-2030s.