MoCA Inaugurates Direct Flights Between Bhopal and Udaipur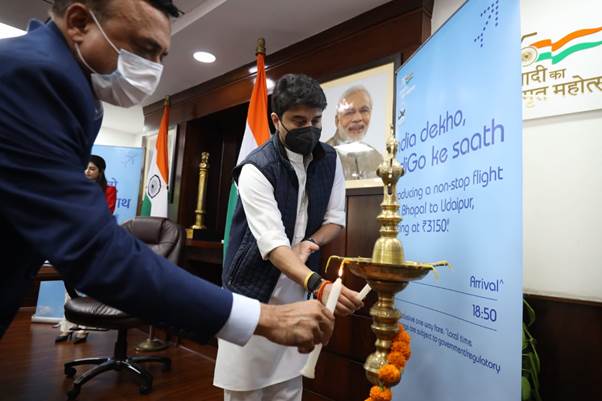 Minister of Civil Aviation, Jyotiraditya Scindia, inaugurated a direct flight from Bhopal to Udaipur under the RCS UDAN Scheme on, 1st November 2022.
The flight operation on this new route will connect Bhopal and Udaipur beginning November 1,2022. This new route will not only enhance regional connectivity but will also promote trade, commerce, and tourism activities between these states. The fight will be operated by Indigo three days a week as per the following schedule:
Flt No.
From
To
Freq.
Dep. Time
Arr. time
Acft
Eff from
6E 7973
BHO
UDR
246
17:20
18:50
ATR
01 November 2022
6E 7974
UDR
BHO
246
19:10
20:40
In his speech, Minister of Civil Aviation Jyotiraditya M. Scindia congratulated the people of Madhya Pradesh and Rajasthan, noting that only 94 flights per week operated from Bhopal airport a year ago, but that number has now increased to 178 flights per week. Previously, Bhopal was linked to five cities; now, it is linked to nine. Madhya Pradesh has also been given 33 routes.
Rajasthan has been given sixteen routes, according to the minister. Six of these sixteen routes will be assigned to Udaipur. The minister reaffirmed the government's commitment to inclusive growth and air connectivity throughout the country.
The inauguration was graced by Girish Gautam, Speaker, Vidhan Sabha, Madhya Pradesh, Sadhvi Pragya Singh Thakur, MP (LS), Bhopal, Chandra Prakash Joshi, MP (LS), Udaipur, and Rameshwar Sharma MLA. Additionally, officers from the Ministry of Civil Aviation, the Government of India, the Government of Madhya Pradesh, the Government of Rajasthan, AAI, and Indigo were also present.