BizAmp an Outreach Event by Ministry of MSME Along With NVCFL, Was Held in Dimapur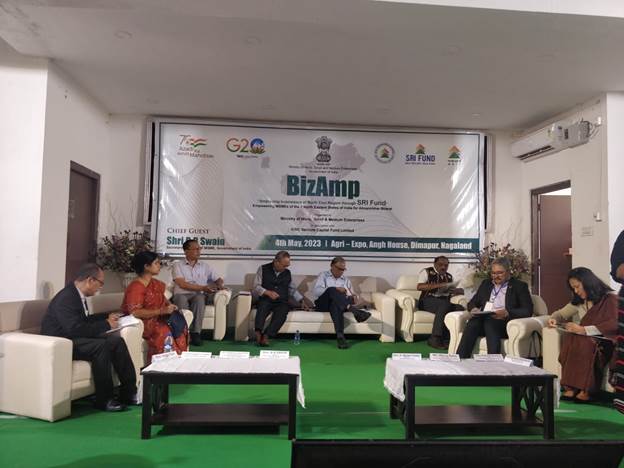 BizAmp, an outreach event hosted by the Ministry of MSME in association with NSIC Venture Capital Fund Limited (NVCFL) under its Self-Reliant India (SRI) Fund, was held on May 4, 2023, at Dimapur, Nagaland, and presided over by B.B. Swain, Secretary, Ministry of MSME.
MSMEs from the north-eastern region, daughter funds, and other state leaders participated in the programme, which aimed to empower MSMEs from the Northeastern States and expand their enterprises using benefits under the SRI Fund.
The programme consisted of dedicated sessions for participants, such as SBI Capital Ventures, NEDFi, and others. The seminar also gave benefiting MSMEs a chance to share their stories and inspire the aspiring MSMEs in attendance. The event highlighted the combined efforts of the state and central governments, with the presence of industry secretaries from various north-eastern states providing insights into various policies meant to help MSMEs grow.
Speaking on the occasion, BB Swain congratulated all Ministry and NVCFL officials and stated, "The joint efforts of the state and the central government to boost the MSME sector in the NE will bring out new avenues of growth, promote startups and existing enterprises, and take the state's MSME cluster to new heights." He also urged the attendees to make the most of the SRI Fund and interact with as many daughter funds as possible.
The Government of India established the SRI Fund with an outlay corpus of Rs 10,006 crore with the purpose of providing financial infusions to MSMEs through Daughter funds. The NVCFL-managed SRI fund is an Alternative Investment Fund (AIF) that provides growth finance to MSMEs using equity-like structured instruments. As of March 31, 2023, the fund had committed Rs. 5,120 crores to 42 empanelled daughter funds. BizAmp was the country's first outreach effort, focusing on capital gains through the NVCFL's SRI Fund. It served as a platform for the SRI Fund's appointed daughter funds to target MSMEs in India's Northeast.