PM Modi Flags Off the Fourth Vande Bharat Express at Himachal's Una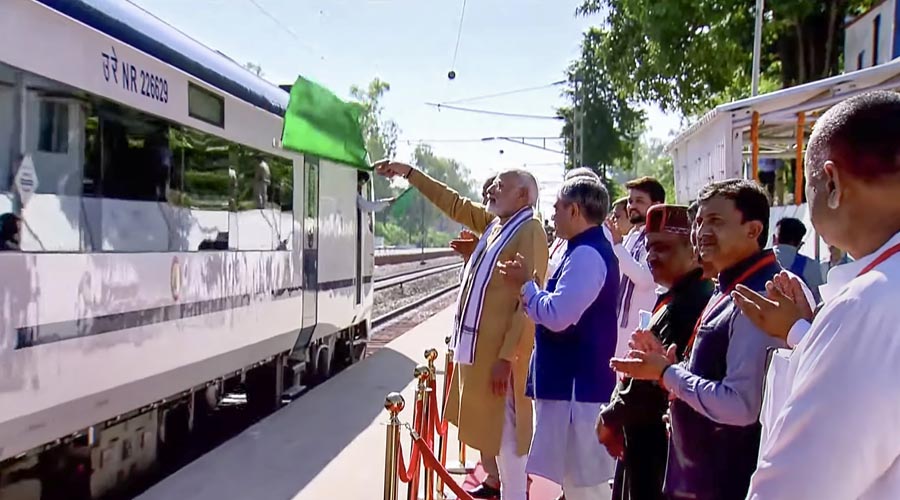 Prime Minister Narendra Modi flagged off the country's fourth Vande Bharat express train, on October 13, 2022. This express train began operations in Una, Himachal Pradesh. The new Vande Bharat Express will operate between Amb Andaura and New Delhi. This train is a more advanced version than previous ones, being much lighter and capable of reaching higher speeds in a shorter period of time. The train will reach 100 km/h in 52 seconds. You can now travel from Delhi to Chandigarh in just three hours.
Except for Wednesdays, the train will run six days a week, with stops in Ambala, Chandigarh, Anandpur Sahib, and Una. It accelerates from 0 to 100 km/h in 52 seconds. The train will help boost tourism in the region by providing a more comfortable and faster mode of transportation.
The new Vande Bharat trains, according to Railways, have improved features such as reclining seats, automatic fire sensors, CCTV cameras, on-demand content with wifi, three-hour battery backup, and GPS systems to make travel safer and more comfortable. By August 2023, the Integral Coach Factory hopes to have produced 75 Vande Bharat trains. The roof-mounted package unit (RMPU) also has a photocatalytic ultraviolet air purification system.
After leaving Chandigarh Railway Station, the train will make a single two-minute stop at Ambala Cantonment before continuing on to New Delhi.
The train, which is outfitted with cutting-edge safety features for commuter convenience, will benefit people in the Tricity, particularly those who travel between Delhi and Chandigarh for work.
The train will not only make the journey more comfortable, but it will also be faster, taking around two hours and 50 minutes for a one-way trip, which is more than half an hour faster than the Shatabdi Express. The fastest train currently operating on the section takes approximately three and a half hours to travel from Delhi to Chandigarh.
The Vande Bharat Express is a new-age train that is redefining passenger travel in India. The train's inauguration follows the announcement of the Himachal Pradesh Legislative election this year. PM Modi launched the third Vande Bharat Express last month in Gujarat, another election-bound state. This train connects Gandhinagar and Mumbai. The other two Vande Bharat trains run between New Delhi and Varanasi, and between New Delhi and Mata Vaishno Devi Katra.
Kuljit Singh Bedi, Deputy Mayor of Mohali Municipal Corporation, has written to Prime Minister Narendra Modi requesting that the Vande Bharat Express stop in Mohali. Bedi stated that it would improve people's connectivity as well as boost industry.