Piyush Goyal Meets French Counterpart Olivier Becht in Paris on Thursday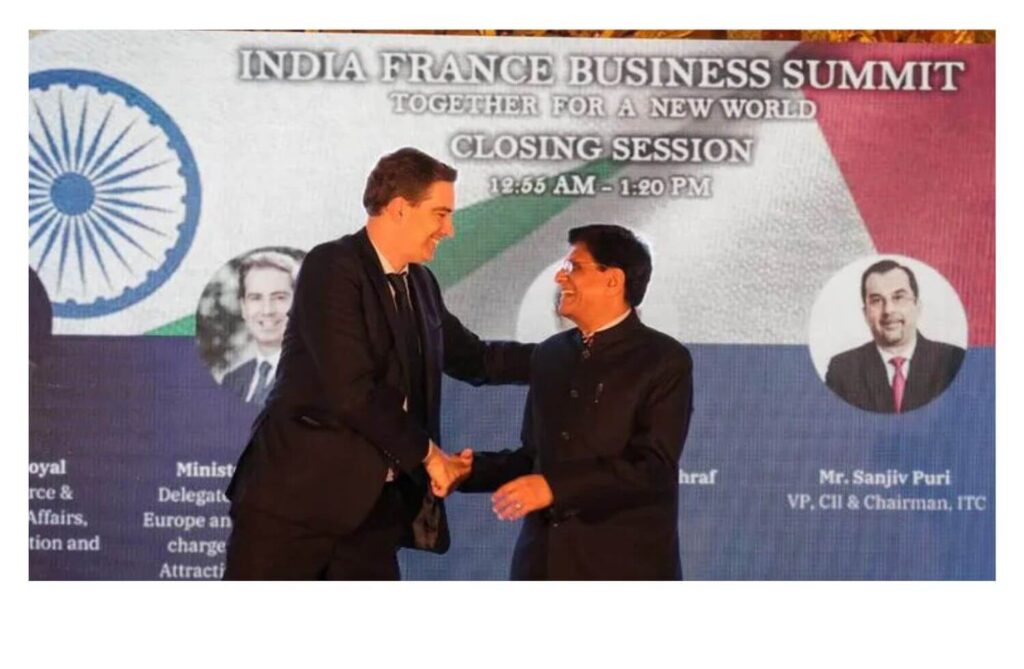 Piyush Goyal, the Union Minister of Commerce and Industry, Consumer Affairs, Food and Public Distribution and Textiles, visited his French counterpart, Olivier Becht, the Minister Delegate for Foreign Trade, Economic Attractiveness and French Nationals Abroad, Government of France, on Thursday, as part of his visit to France.
The two Ministers discussed their respective states of the national economy. Becht pointed out that France has had the lowest inflation rate of 5.2 per cent in the Euro Zone, half of the average of other EU nations. Moreover, their unemployment rate stood at 7 per cent, and GDP grew in 2022 at 2.6 per cent; while the expected growth this year is 0.6-1 per cent.
Goyal highlighted the current stability of the Indian economy. India has seen double-digit inflation, which is now at 6 – 6.5 per cent. He shared this year's growth of 6.8 per cent of GDP and 13 per cent at nominal rates. He acknowledged that with the Rafale purchase and the latest Airbus order, more value has been added to the Indo-French partnership. Indian companies have invested around €300 million in France. Goyal highlighted that trade can be boosted by breaking language barriers.
Becht mentioned that bilateral trade stood at USD 15.1 billion in 2021-22, which doubled in the past decade; FDI has been USD 10 billion from France, a top foreign investor in India. He added that French companies want to invest in India.
The Ministers discussed the focus areas regarding India – EU FTA negotiations, including the issues related to market access. The Indian Minister also shared that India plans to buy 2,000 commercial aircraft in the next decade, highlighting the tremendous opportunity to make commercial aircraft in India to serve domestic and global demand.
The French Minister further talked about direct investments of French companies in India and acknowledged the mutual opportunity in renewable energy, infrastructure, and mobility. He pointed out that France has facilitated Public Projects in Kochi, Nagpur and Ahmedabad.
Goyal invited Becht to India with the French community at the sidelines of the G20 Trade Ministers meeting in August 2023.