Lufthansa Cargo Intends To Reduce CO2 Emissions With Cargo Pallet Nets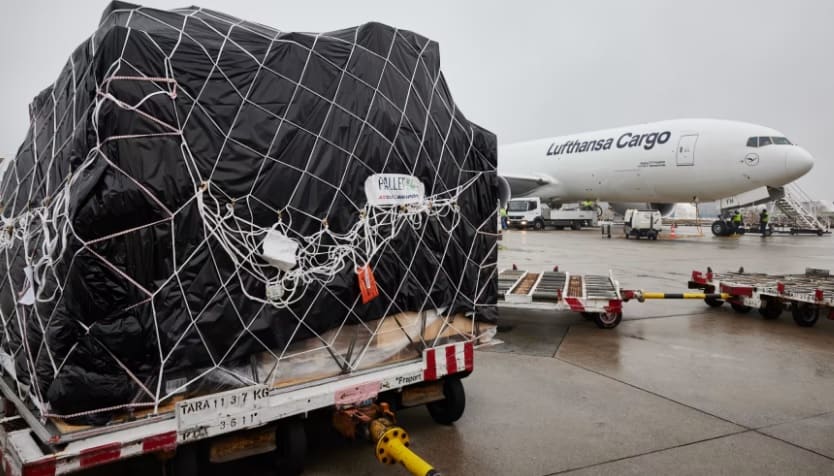 The "Pallet Net Zero" nets from AmSafe Bridport, which Lufthansa Cargo will use through its subsidiary Jettainer, weigh between nine and eleven kilograms, or less than half as much as a typical polyester-fiber net.
The substance that makes up Pallet Net Zero is a bio-based fibre, a cutting-edge product manufactured from renewable bio-based raw materials. The increased tensile strength of the unique fibre is partly responsible for the new nets' reduced weight. According to the airline, the lighter weight of the transport nets allows Lufthansa Cargo to save 140 tonnes of fuel annually, producing 440 tonnes less CO2.
The first user of Jettainer's new, lighter Pallet Net Zero system will be Lufthansa Cargo. The airline will have access to about 2,000 nets from the ULD specialist, which will be utilised for aluminium pallets. According to Jettainer, the net will be fastened to one side of the pallet in order to reduce the loss rate for these nets.
"For us, the adoption of lightweight transport nets is another step on the route to lowering CO2 emissions," said Dorothea von Boxberg, head of the executive board and CEO of Lufthansa Cargo. We want to cut CO2 emissions per kilogramme of air travel in half by 2030. "We need to take action on several fronts in order to accomplish this. Every action matters. One of them is lightening the burden on our loading apparatus. "We intend to be completely CO2-neutral in the air by 2050, and we want to accomplish this on the ground by 2030."