Honorable Minister Sarbananda Sonowal, Launches the FIATA Bill of Lading in India
The FIATA Paperless Bill of Lading streamlines the issuance process by eliminating double data entry and enabling the Freight-Forwarder to quickly issue secured eFBL using their standard tools (TMS and other applications). The document can then be shared with stakeholders digitally or as a secured printed copy, at the discretion of the freight forwarder.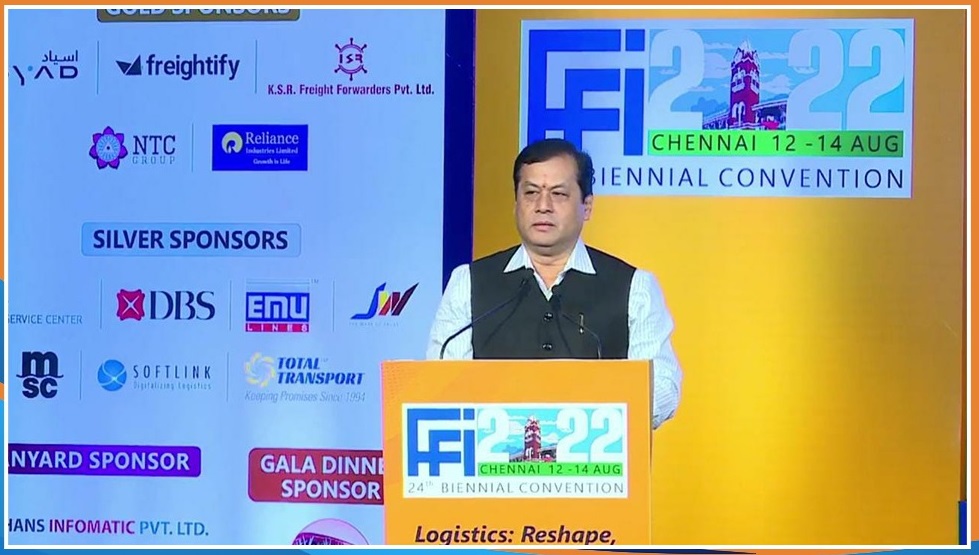 The FIATA Bill of Lading (eFBL) was first presented in India at the Federation of Freight Forwarders Associations in India's (FFFAI) 24th Biennial Convention, which took place from August 12–14 in Chennai. Sarbananda Sonowal, Minister of Ports, Shipping & Waterways and Minister of AYUSH, officially launched this on August 13, 2022, during the Business Sessions, in the presence of Shankar Shinde, Chairman, FFFAI; AV Vijayakumar, Immediate Past Chairman, FFFAI; Dushyant Mulani, Chairman-Elect, FFFAI; PK Agrawal, Pr. Chief Commissioner of Customs, Mumbai Zone–I; other eminent dignitaries and more than 600 delegates from across India and overseas.
The Negotiable FIATA Multimodal Transport Bill of Lading has been around for more than 30 years, and it has earned a strong reputation in the trade because of its terms and conditions, which include the requirement that the document issuer be a legitimate FIATA/National Association member and to have legit liability insurance.
Based on blockchain technology, the FIATA Paperless Bill of Lading offers the supply chain's much-needed transparency, security, and accountability.
Each paperless FBL is registered with a unique hash on a private ledger, providing an audit trail that is accessible to all stakeholders dealing with the document and is simply scanned by the unique QR code, assuring supply chain security. Any interested software supplier may implement the FIATA paperless Bill of Lading solution since it is open source.
The Honourable Minister Sonowal further emphasised the growing significance of a logistics sector that is IT-driven for the quick transportation of goods from producers to consumers around the world. Additionally, FFFAI's initiatives in this domain through services like eFBL will enable Indian products to enter international markets with shorter transaction times and lower costs, making Indian products more competitive there.
According to a research by the Digital Container Shipping Association (DCSA), if the E-Bill of Lading is used by 50% of shipping companies, the world will save $4 billion yearly.
eFBL's Key Advantages:
To save time and money, issue electronic documents within seconds and save money by avoiding the costs generated by paper documents.
To improve processes, generate paperless FBLs directly from your TMS to avoid double data entry.
Allow your stakeholders to check the validity of the eFBL, your identity, and the document content integrity at any time to increase trust and security.
To achieve sustainability goals, embrace a green solution, help save paper and unnecessary courier services.
To provide flexibility of format: Decide in which format you want to share your FBL with your stakeholders: in a paperless format (PDF), or you can always print it if needed.