BIAL Chose AISATS for Greenfield Logistics Park at Bengaluru's Intl Airport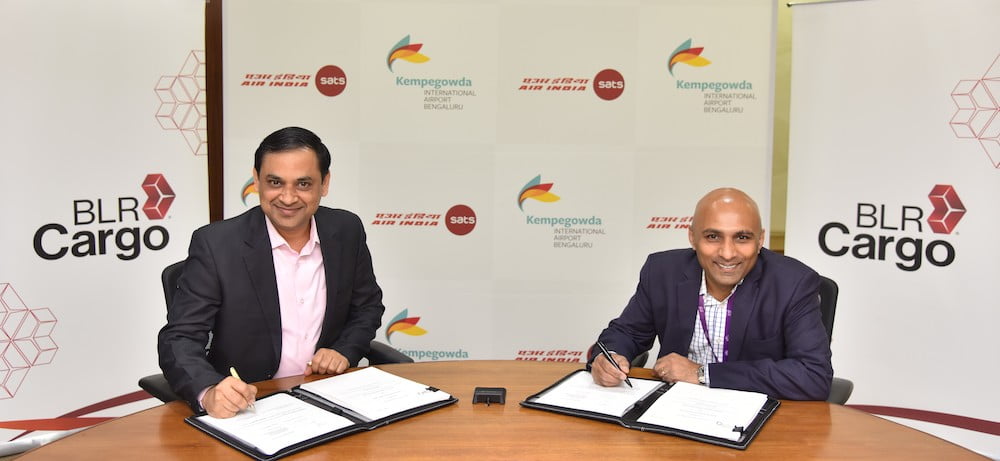 Air India SATS Airport Services Private Limited (AISATS), India's leading airport services company, has been selected by Bengaluru International Airport Limited (BIAL) to design, build, finance, operate, and maintain a greenfield logistics park at Kempegowda International Airport, Bengaluru (BLR Airport / KIAB) for a 15-year period. The 8.2 acre Logistics Park will house a general warehouse, bond warehouse, consolidation center, cold storage facility, office spaces, and other amenities such as a bank / ATM facility, business center, cafeteria, and so on. AISATS will also provide value-added services such as hourly or pay-per-use manpower and equipment rentals for loading and offloading, labelling, packaging, bulk-breaking, and so on.
On the occasion, Sanjay Gupta, CEO, AISATS said, "As India strives to become a USD 5 trillion economy, the government has introduced various policy initiatives such as PM Gati Shakti and the National Logistics Policy with a focus on building world-class infrastructure to improve India's trade competitiveness, create jobs, and bring down the logistics cost, thereby laying the foundation for India to become a logistics hub. In line with this vision, AISATS is developing a logistics park at BLR Airport to support exporters, importers, and freight forwarders by creating an efficient warehousing centre with value-added services for the air cargo community."
"BLR Airport has established itself as one of the top airports in the country for providing excellent infrastructure to support air cargo across South and Central India. This partnership with AISATS will enhance BLR Cargo's capabilities and growth potential. It is essential to have both a general warehouse and a bonded warehouse at the airport to support freight forwarders, customs brokers, agents, and various supply chain companies in the ecosystem. With the help of a dedicated logistics park located at the airport, freight forwarders will be able to consolidate cargo for export and import across multiple regions. This would also facilitate cargo movements from the southern catchment regions." said Satyaki Raghunath, Chief Strategy & Development Officer, BIAL.