Air Cargo Volumes Falter Slightly: IATA
The International Air Transport Association (IATA) recently issued data for the worldwide air cargo markets for July 2022, which showed that demand remained steady in July (-3.5per cent) but fell short of July 2021 performance (-9.7per cent).
• In terms of cargo tonne-kilometers (CTKs*), the global demand decreased by 9.7per cent from July 2021 (-10.2per cent for international operations). Demand was down 3.5per cent from July 2019 levels.
• Capacity was 3.6per cent higher in July 2021 (+6.8per cent for overseas operations), but it was still 7.8per cent lower than in July 2019.
• It's important to keep in mind the following elements of the operating environment:
New export orders, a precursor to cargo demand, fell in all markets with the exception of China, which started a sharp increase trend in June.
As several airlines with bases in Russia and Ukraine were major carriers of cargo, the war in Ukraine continues to reduce the cargo capacity used to supply Europe.
The rebound in the global trade in products continued in the second quarter, and in the next months, it will be aided by China's additional relaxation of COVID-19 limitations. Although maritime would mostly benefit, air cargo is expected to see growth.
Air cargo is tracking at levels close to 2019, albeit it has slowed down from the extraordinary performance of 2020–2021. Since April, volatility brought on by supply chain limitations and changing economic conditions has caused the cargo markets to essentially drift sideways. According to July's data, air cargo is still holding its own, but as is the case for practically all businesses, we must closely monitor upcoming political and economic developments, according to IATA Director General Willie Walsh.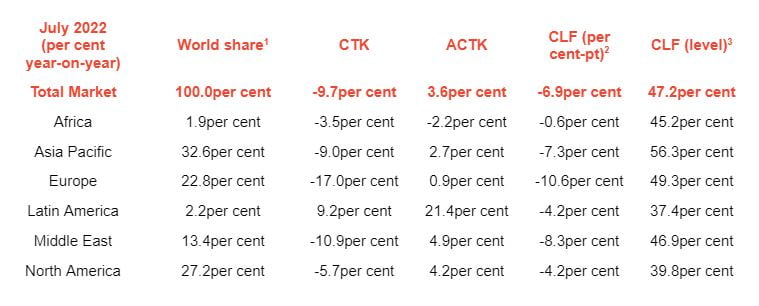 Regional Performance in July
When compared to the same month in 2021, air cargo volumes for Asia-Pacific carriers fell by 9.0per cent in July 2022. This was a big decline compared to the 2.1per cent loss in June. The crisis in Ukraine, labour shortages, and decreased levels of commerce and manufacturing activity as a result of Omicron-related restrictions continue to have an influence on airlines in the area. Since pent-up demand from the previous Omicron-related lockdowns in China should have prevented such significant decreases in volumes, the extent of the decrease suggests volume volatility. When compared to July 2021, the region's capacity was 2.7per cent more available.
When compared to the same month in 2021, North American carriers reported a 5.7per cent drop in cargo shipments in July 2022. Compared to June, where there was a 13.5per cent reduction, this was better. In the upcoming months, demand is anticipated to increase as Chinese limitations are lifted. 
European carriers saw a 17per cent drop in freight volumes in July 2022 compared to the same month in 2021, even though capacity was up 4.2per cent from July 2021. For the third consecutive month, this was the worst performance of all the regions. This is attributable to the war in Ukraine. Volumes were also impacted by labor shortages and a decline in Asian industrial activity brought on by Omicron. Capacity grew by 0.9per cent in July 2022 compared to July 2021.
In July 2022, cargo volumes for Middle Eastern carriers decreased 10.9per cent over the past year. Significant gains from traffic rerouting to avoid flying over Russia did not manifest, and stagnant freight flows to/from Europe had an effect on the region's performance. Compared to July 2021, capacity increased by 4.9per cent.
Carriers in Latin America reported a 9.2per cent increase in cargo volumes in July 2022 compared to July 2021. Of all the regions, this one was the most successful. By offering new routes and capacity, as well as, in some cases, investing in more aircraft for air cargo in the upcoming months, airlines in this region have demonstrated their optimism. When compared to July 2021, capacity increased by 21.4per cent.
In July 2022 compared to July 2021, cargo volumes for African airlines fell by 3.5per cent. This was much less growth than what was seen the month before (5.7per cent). The capacity was 2.2per cent lower than in July 2021.
The challenges and opportunities facing the air cargo industry were discussed at the World Cargo Symposium, which gathered the air cargo industry in London in September.