Adani Ports Signs a Concession Agreement for the Haldia Dock Terminal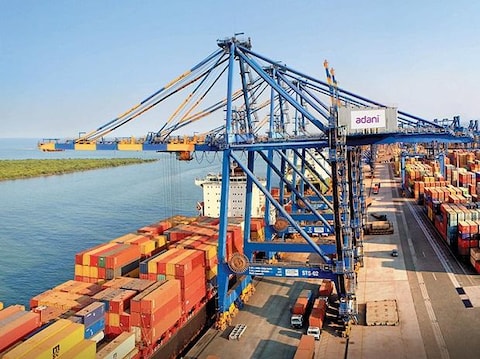 In order to mechanise Berth No. 2 at Haldia, Adani Ports and Special Economic Zone (APSEZ) announced that its fully owned subsidiary HDC Bulk Terminal (HBTL) had inked a concession agreement with the Syama Prasad Mookerjee Port Authority. days after the Supreme Court paved the path for its eligibility in cargo handling tenders released by the state-owned main port authorities, Haldia Dock Complex.
The termination of a contract with the company at Visakhapatnam Port, which disqualifies it from participating in cargo handling tenders issued by other state-owned port authorities, delayed the signing of the concession agreement for the project. On February 10, the Syama Prasad Mookerjee Port Authority announced a letter of award to APSEZ for the project after the largest private port operator in India placed the highest offer with a royalty of Rs75 per tonne. The firm's disqualification resulting from the cancellation of a contract at Visakhapatnam Port, the top court said on September 5th, "shall not bar or operate as a disqualification for the petitioner (APSEZ) for future tenders issued by public authorities," according to the ruling.
With the Haldia Dock Complex agreement, APSEZ would be able to expand into West Bengal, one of the two coastal states (the other being Karnataka) where it is currently absent. It will be another in APSEZ's network of 13 ports and terminals, which can handle 562 million tonnes (mt) of cargo. With an expenditure of Rs298.26 crore, the project will mechanise Berth No. 2 at Haldia Dock Complex to handle 3.744 million tonnes (mt) of dry bulk cargo. The chance to firmly establish APSEZ's imprint in Bengal is provided by the mechanisation and upgrading of Haldia Bulk Terminal, according to Karan Adani, CEO and Whole-Time Director of APSEZ.
"We are still committed to developing Bengal's economy and industry, which are both constantly expanding. With this completely automated facility, we hope to raise the bar for environmental and port operations. This terminal will increase customer experience and synergize APSEZ's services with those of our current ports and terminals along India's east coast. The maritime industry will profit from our leadership in integrated logistics, which will greatly increase HBTL's efficiency, according to a statement from Karan Adani.
The Haldia Dock Complex serves a sizable hinterland that includes landlocked Nepal as well as West Bengal, Bihar, Uttar Pradesh, Jharkhand, and Assam. This terminal will manage the raw material supply chain for the hinterland's steel, electricity, and cement industries. The project's primary benefit is the potential to offer bulk freight handling services that are fully automated, extremely effective, environmentally beneficial, and pollution-free. According to APSEZ, by speeding up the turnaround time of ships calling at Haldia Dock, the project would not only increase effective port capacity but also assist port customers in lowering their logistical costs.According to the concession agreement that the two parties signed, HBTL must complete financial close on the project within six months and start building the terminal. The berth can accommodate Panamax vessels with a maximum dead weight of 85,000 tonnes (DWT) and an average parcel size of 28,000 tonnes after mechanisation.
All forms of imported coal are primarily intended to be handled by the planned mechanised berth. Coke, limestone, iron ore pellets, and other suitable dry bulk cargo can be handled at the facility by APSEZ with ease. Coking coal and non-coking coal would make up around 80per cent of the cargo handled at the proposed dock, followed by limestone and other flux at 10per cent and other dry bulk cargo at 10per cent.